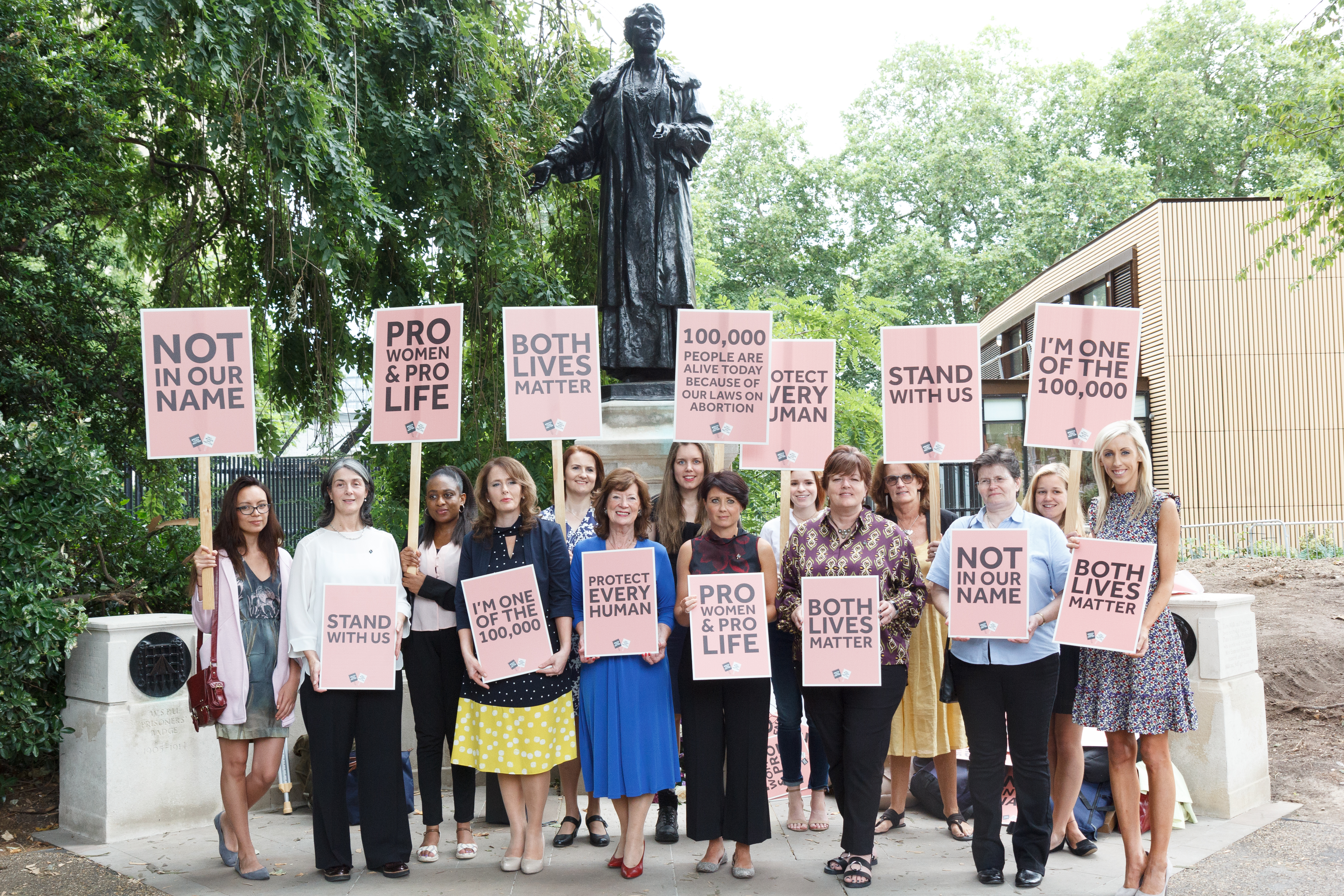 PRESS RELEASE: FOR IMMEDIATE RELEASE
Operational note: High-resolution photos from the event that can be used for
press use are available here: 
https://flic.kr/s/aHsmox9nDs
NI women urge MPs: don't force abortion laws on us
MPs risk crippling devolution if abortion laws are imposed on Northern Ireland, according to a group of community leaders from Northern Ireland.
At a special event at Westminster today (Wednesday July 18), MPs heard from seven women, including a former Sinn Fein Mayor, a current DUP MLA as well as an SDLP councillor.
The group urged MPs to listen to the many women across Northern Ireland who do not want the current abortion law to be changed.
Since the Irish referendum on abortion, some MPs have been campaigning for more liberal abortion laws in Northern Ireland.
A few have even called for a free vote in the House of Commons on Labour MP Stella Creasy's proposed amendment to the Domestic Abuse Bill.
This would see new abortion laws imposed on Northern Ireland, which would be even less restrictive than the current law in GB, despite the fact that abortion is a devolved responsibility for the Northern Ireland Assembly and has been so since 2009.
Leading Conservatives, including the party's deputy chair James Cleverly and the leader of the Scottish Conservatives, Ruth Davidson have warned against going over the heads of the Northern Ireland assembly, as has SNP MP Deirdre Brock.
Polling by Both Lives Matter also showed a huge majority – 72 per cent – of Conservative MPs are against devolution being undermined by imposing abortion laws on Northern Ireland.
Co-founder of Both Lives Matter, Dawn McAvoy said:
"It's vital that MPs hear from women who live and work in Northern Ireland and who represent other women across the Province.
There are a lot of myths about abortion law in Northern Ireland, it's important for the GB public to know that women in NI do have access to safe and legal abortion, in carefully limited circumstances.
There's been a lot of noise about the "need" for new abortion law in Northern Ireland. This is being driven by pro-abortion campaigners who are trying to open up unlimited access to abortion. We represent some of the many Northern Irish women who reject this.
We would urge British MPs to respect the people of Northern Ireland and our elected representatives.
Our current law provides proper protection for both the mother and the unborn baby and we've found that many women have no desire for that law to be changed."
Carla Lockhart, DUP NI Assembly Member for Upper Bann said:
"I have constituents who are deeply concerned at the prospect of abortion on demand being foisted on Northern Ireland.
We will be urging members of both Houses to respect the sincere and deeply held views of many in Northern Ireland about abortion as well as the role of the Northern Ireland Assembly. Abortion was fully devolved to the Assembly in 2009. Any move to liberalise our abortion laws through Westminster would be unreasonable and disrespectful to the democratic process in Northern Ireland. Such significant change would undermine the principle of devolution.
It would be short-sighted and foolish in the extreme to take advantage of the current political complexities at Stormont to impose such controversial legislation over our heads."
Ann Brolly, former Sinn Fein Mayor said:
"The devolved administration in the north of Ireland was hard won and is currently very fragile.
If MPs are serious about respecting it then they will not legislate above the heads of our elected representatives.
All across the north there are many women, of different political persuasions who do not want this sort of imposition and I would strongly urge MPs to listen to the views expressed today."
ENDS
Notes to editors:
For additional quotes and media interviews contact: Dawn McAvoy (07976 414817)
High-resolution photos from the event that can be used for press use are available here: https://flic.kr/s/aHsmox9nDs
The list of women present at the event were as follows:

Dawn McAvoy – Co-founder, Both Lives Matter NI
Carla Lockhart MLA – DUP NI assembly member, Upper Bann
Roisin Lynch –  SDLP councillor
Anne Brolly – Former Sinn Féin councillor
Tracey Harkin – Co-founder, Every Life Counts and mum to Kathleen Rose who has Trisomy 13
Lynn Coles – Spokesperson, Women Hurt NI
Roselle Birnie – General Practitioner

Both Lives Matter is a Northern Ireland based group of individuals and organisations who are pro-life and pro-women. Their website is found here: https://bothlivesmatter.org/
Deputy chair of the Conservative party James Cleverly has spoken out about abortion and devolution:

"You can't claim to respect NI devolution but then demand that it be ignored because an issue is 'important'," he said. "The sensitivity about saying 'the Republic of Ireland have done it so Northern Ireland should do it too' cannot be overstated either."

Ruth Davidson, leader of the Scottish Conservative Party has also warned against imposing abortion laws on Northern Ireland:

"If I was a politician in Northern Ireland, I would absolutely 100% vote to change the law. But as someone who operates in a devolved administration, I know how angry I would be if the House of Commons legislated on a domestic Scottish issue over the head of Holyrood".

In a House of Commons debate (June 5, 2018) SNP MP Deirdre Brock MP said:
The Both Lives Matter polling mentioned above can be found in more detail here: https://bothlivesmatter.org/72-of-conservative-mps-reject-undermining-of-devolution-to-impose-abortion-on-northern-ireland
The Northern Ireland Assembly rejected proposed changes to abortion law in February 2016: https://www.irishtimes.com/news/ireland/irish-news/northern-assembly-rejects-abortion-law-changes-1.2529989