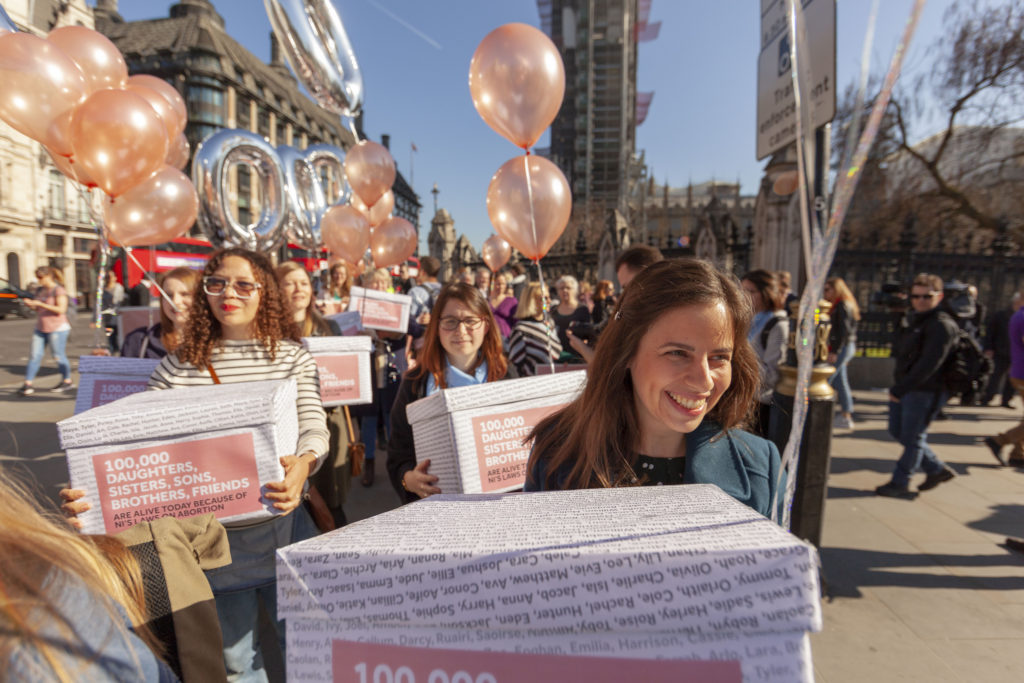 Note: High-resolution photos from the event which can be used by the media are available here:
https://www.flickr.com/photos/155524210@N07/sets/72157706981658515

PRESS RELEASE – FOR IMMEDIATE RELEASE

Women march on Westminster highlighting 100,000 alive today because of NI abortion laws

A group of women marched on Parliament today highlighting that 100,000 people are alive today because of Northern Ireland's abortion laws.

The march was lead by 10 women each holding a box representing 10,000 people. This symbolised in total the 100,000 people who are alive today because of Northern Ireland's abortion laws marched on Parliament.

The women marched across Westminster bridge, past Parliament and onto the Northern Ireland Office. The women are demanding that the Secretary of State for Northern Ireland continues to ensure Westminster respects devolution and does not impose an extreme abortion law on Northern Ireland.

Dawn McAvoy, co-founder of Both Lives Matter said:

"100,000 people in Northern Ireland are alive today because Northern Ireland did not accept the same abortion law that was introduced into Britain in 1967. These people are our mothers, fathers, sisters, brothers, daughters and sons. Abortion pressure groups have no mandate from us the people of Northern Ireland to impose abortion on Northern Ireland from Westminster. We urge the British Government to respect the people of Northern Ireland and our elected representatives.

Amnesty, whose leadership have offered to resign following a recent internal report which found significant incidences of bullying, sexism and public humiliation, need to get their own house in order. Instead they are organising another publicity stunt that ignores the approximately 38 babies born every week in NI directly because of our pro-both laws. While English MPs and comedy actresses are entitled to their views, this is a matter for the people of Northern Ireland. Two thirds of women (and 70% of 18-34 year olds) in NI want legislative decisions on our abortion law to be made by our democratically elected politicians in the Northern Ireland Assembly.

If what is proposed by abortion pressure group was to actually happen, it would have dramatic consequences for Northern Ireland. Polling shows the majority voice of the Northern Irish people support decisions on abortion law happening in Northern Ireland, not Westminster. This is a reminder to the government in Westminster that abortion remains a devolved issue in Northern Ireland and laws and policy should be decided by a devolved government."

Fiona Bruce MP said:

"Abortion pressure groups are trying to undermine devolution and impose change to abortion law from Northern Ireland. This is bad for devolution everywhere and contrary to Government policy.

These extreme proposals are out of touch with the will of the Northern Irish people, and in particular women. It is clear that a strong majority of Northern Irish women reject interference from Westminster and believe that this is a decision for Northern Ireland.

I urge the Government to listen to the majority of women in Northern Ireland and reject any pressure to impose abortion on Northern Ireland."

ENDS

For additional quotes and media interviews contact: Dawn McAvoy (07976 414817) or Clare McCarthy on (078 336 61532).
Note: High-resolution photos from the event which can be used for press use are available here: https://www.flickr.com/photos/155524210@N07/sets/72157706981658515
ComRes interviewed 1,013 Northern Irish adults online between 8th and 15th October 2018. Data was weighted to be representative of all Northern Irish adults. ComRes is a member of the British Polling Council and abides by its rules. Full data tables are available here: https://www.comresglobal.com/wp-content/uploads/2018/10/2018-Both-Lives-Matter.pdf
The full report on the 100,000 lives figure is available here: https://bothlivesmatter.org/statistics
Both Lives Matter is a Northern Ireland based group of individuals and organisations who are pro-life and pro-women. Their website is found here: https://bothlivesmatter.org/
Secretary of State for Northern Ireland, Karen Bradley stated in the Houses of Parliament (September 5, 2018) that:

"Abortion is a devolved matter in Northern Ireland and this means it is only right that questions of laws and policy on abortion, including the legality of any medicines, are decided by a devolved government."

Deputy chair of the Conservative party James Cleverly has spoken out about abortion and devolution:

"You can't claim to respect NI devolution but then demand that it be ignored because an issue is 'important'," he said. "The sensitivity about saying 'the Republic of Ireland have done it so Northern Ireland should do it too' cannot be overstated either."

Ruth Davidson, leader of the Scottish Conservative Party has also warned against imposing abortion laws on Northern Ireland:

"If I was a politician in Northern Ireland, I would absolutely 100% vote to change the law. But as someone who operates in a devolved administration, I know how angry I would be if the House of Commons legislated on a domestic Scottish issue over the head of Holyrood".

In a House of Commons debate (June 5, 2018) SNP MP Deirdre Brock MP said:

"Likewise, the issue of abortion in Northern Ireland is a devolved matter and is an issue for the people of the Northern Ireland and the people they elect to the Assembly. It is a matter devolved and, frankly, it matters not a jot whether the decisions made at Stormont, when it is sitting, are agreeable to Members sitting here. That is the point of devolution, a point that some Members of this place have been spectacularly slow to appreciate at times. The decisions of devolved Administrations are taken for reasons that people in those devolved nations understand from their point of view, and they are taken using evidence that the people, politicians and policymakers of those devolved nations consider important."